How Large Banks in Middle East Asia have Transformed their ATM/POS Based Transactions Ecosystem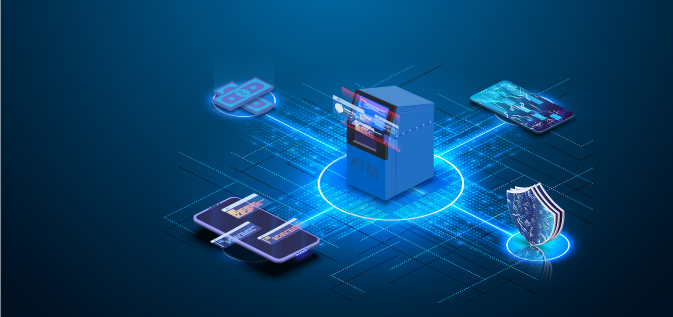 When consumers think of ATMs, they probably visualise a digital peripheral with a screen, keypad, cash disbursal slot, and maybe a cash collector. One hardly thinks of the complex driving mechanism that enables these transactions with the bank on a continuous basis with negligible downtime. This mechanism is a technology that handles and integrates multiple back-end core banking systems with different ATM/POS controllers.
Even with the advent of virtual banking through the internet and smartphones, banking touch points at a physical level are still very much relevant. ATM and POS channels happen to be the most preferred medium for a bank's customers to withdraw/deposit cash and carry out other transactions.
The success of a bank's ATM network operations depends primarily on the solution being hosted by the bank, which should seamlessly integrate with the ATM controller to authorise the messages from the network and process transactions with the core banking system. The solution should enable extensive data tracking at various stages of message flow to identify and reconcile the state of the messages. The system should also be flexible enough to support the configuration of new card products fully.
Pennant's expertise in ATM/POS ecosystem has helped us in creating a specialised product. Our solution – the ATM Host Integrator is capable of enabling quick and seamless transactions while maintaining complete data integrity. We have implemented this solution for banks across the Middle East including most of the leading banks in Qatar. Similarly, we have success stories of our product implementation with other major banks in UAE, Oman and Kuwait.
Approximately
70%
of ATM based transactions in Qatar are being settled currently on Pennant's ATM Host Integrator
Inherent legacy challenges hindering performance
Traditionally banks were operating their ATMs integrated with core banking systems using legacy systems. Their conventional integrator was able to carry out simple transactions under ideal conditions but severely lacked performance in critical areas. In that setup, the banks were facing multiple issues vis-à-vis:
Lack of Configurability – Banks couldn't seamlessly configure a new product (with a product code or definition) without changes to the core system. They also did not possess the ability to define the path for crediting the funds while configuring a new product or identify the fees that might be due. The lack of configurability also created multiple cross-currency problems and issues.
Missing transparency – Tracing and logging were not there as part of the system and this affected reconciliations in the future.
Unmanaged time outs – Time outs were not adequately managed because of the loads and were not in line with the recommended regulatory TAT (turnaround time) specified for each transaction.
Lack of duplication checks – As the runtime for the checks is in milliseconds, the controller might send the same request multiple times and there would be no verification if there were duplicate requests.
Charting agility, scalability and cost efficiency through a future-ready product
Considering the above issues, it was evident that the banks needed a solution that provided high configurability, adaptability and scalability. They also felt the need for high transparency as it was important to establish the sequence of logging throughout the process.
Pennant's ATM Host Integrator provided the right fit solution to address and overcome all the above challenges the banks were facing. Our ATM Host Integrator product could process customer's ATM and POS transactions and brought multiple benefits including:
Flexibility. The product was designed with a highly flexible configuration to cater to any new messages or card types that the bank wanted to introduce to its consumers. It also facilitated other flexible configurations, providing options for settlement accounts, charges and foreign currency card/account transactions.
Performance at Scale. The turnaround processing time for the completion of each financial transaction and its corresponding response message to the controller was a few milliseconds even during peak hours when load volumes were high. This efficiently demonstrated our product's capability and stability.
Seamless and Transparent. Extensive data tracking and detailed logging transactions at various levels of parsing, processing and accounting settlement have provided immense value to the banks in terms of easy support and overall reconciliation.
The ATM Host Integrator has proven to be a bug-free product that has been seamlessly running for years in these banks with zero downtime and minimal support from our team. A few of our installations at some of the banks were implemented a decade ago, and have been delivering consistent service and value. This aptly proves how our products have stood the test of time, in terms of stability, performance-at-scale and resiliency.
A similar story of performance, scaling without compromising stability and accelerating value for financial institutions, is also being seen in our end-to-end lending lifecycle product, pennApps Lending Factory .