Pennant Technologies Wins Nasscom SME Inspire Awards 2023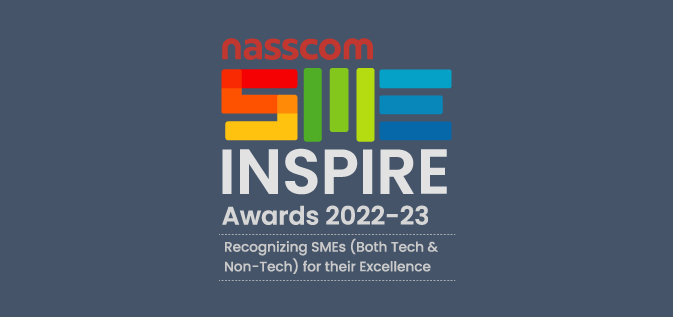 Reinforces the company's ability to drive customer value and deliver market leading growth
Hyderabad, India; April 19, 2023 – Pennant Technologies, an agile, innovative financial technology company delivering future-ready lending solutions to the global banking and financial services industry, today announced it has won the prestigious nasscom SME Inspire Awards 2023 in the Growth Leadership in Tech Products and Platforms category. The award recognizes micro, small, and medium enterprises ((across categories – Tech Services, Tech Products & Platforms, and Business Process Management (BPMs)) that have demonstrated the ability to adapt and rapidly respond to business disruption while at the same time have grown exponentially during the period.
The Lending industry is being impacted by the digital paradigm at an unprecedented scale and innovation. Consumer's today are putting high value on personalized experiences and importantly 24/7 engagement on their channel of choice. Pennant's future ready lending technology solutions are helping banks and financial institutions augment their core lending capabilities and accelerate their transformation to a digital future. Pennant's Lending Factory product, addressing the end-to-end lending lifecycle needs, has seen rapid market acceptance and growth. Some of the leading banks and financial institutions are using the product, including for Financial Oriented Digital Marketplaces, running Mortgage operations, Retail and Commercial lending, etc.
"We are honoured to receive the nasscom SME Inspire Award," said Rama Krishna Raju, Director & CEO, Pennant Technologies. "The recognition reflects our strong growth story driven purely by the value our solutions are delivering to our customers. Further, it is a testimony to our strong passion and commitment to build cutting-edge technologies that support the lending transformation needs of banks and financial institutions".
Nasscom SME Inspire Awards is an initiative of the nasscom SME Council, with the mission to recognize the most innovative and impactful "Small and Medium Sized Enterprises (SME)". The Tech Products & Platforms award category acknowledges the enterprises that have undertaken initiatives to create innovative products or perform advancements on existing products with a vision to transform business operations and impact their businesses significantly.
The awards are classified based on the size of the enterprise, the nature of industry in which it operates and its achievements in terms of growth leadership, innovation, and business impact. It also includes 6 special categories that aim to recognize enterprises demonstrating outstanding human resource practices, exceptional customer experience, adoption of technology, excellence in diversity and inclusion, distinction through sustainability and governance, and leadership during the pandemic driven lockdowns.
Nasscom SME Inspire Awards 2023 ceremony was held at Le Meridien, New Delhi on 28th March 2023.
About Pennant Technologies
Pennant Technologies is an agile, innovative financial technology company that powers the lending operations of global banks and financial institutions. Its suite of future ready lending products and solutions offer banks composable features and scalable capabilities to deliver differentiated loan origination, servicing and collections experiences for their customers. Trusted by leading banks and financial institutions in Asia, Pennant's award winning lending platform has managed more than 10 Million loans and facilitates 50 Million loan transactions per year.
To know more, visit: https://www.pennanttech.com/
Media Contact
Shrinivas K Rao
Pennant Technologies Pvt. Ltd.
Shrinivas.k@pennanttech.com